Paul's Economic Outlook:
August jobs report: Hiring continues as unemployment falls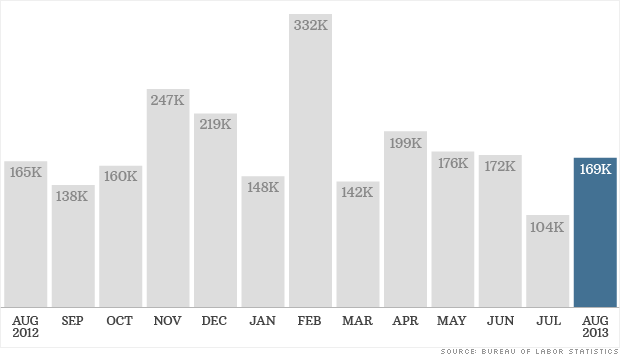 The jobs report was basically flat. Watch the Fed meeting next week (Sept. 17-18), 50% chance they taper.
Suggested Reading:
U.S. economy adds 169,000 jobs in August
Unemployment falls to 7.3% as more people quit looking for work
http://www.marketwatch.com/story/us-economy-adds-169000-jobs-in-august-2013-09-06?siteid=yhoof2
Knee jerk reaction. Not much has change. Taper on Fed Meeting September 17-18 is still around 50%.
Oil extends gains toward $110 after US jobs report
http://finance.yahoo.com/news/oil-extends-gains-toward-110-us-jobs-report-135055128--finance.html
Have you noticed prices at pumps are down. The U.S. is adding large gas supplies (transportation). Oil per barrel $110 because of energy production and the world.
How low can gold go?
http://www.futuresmag.com/2013/09/06/how-low-can-gold-go?ref=hp
It is not a question of if, but when.