Draped Bust $5
Draped Bust, Small Eagle (1795-1798)
Long before the Mint began production in 1793, officials were well aware of the need to maintain the integrity of American coinage. The nation's coins were its face to the world—they not only needed to be of correct weight, but it was equally important that they appeared solid and trustworthy. The necessity for particular care in the preparation of gold and silver planchets was a given, but it was attention to design where the Mint initially came up short. Public criticism of the first issues made officials acutely sensitive to ridicule. No one wanted another fiasco like the Chain cent, where the interlocking links were misinterpreted by the public as the chains of slavery. The Mint could ill afford anything less than perfection in either weight or design.
Design is largely a matter of opinion, but the precious metal content of a nation's coins is an entirely different matter: There is no room fo.... (Expand Text)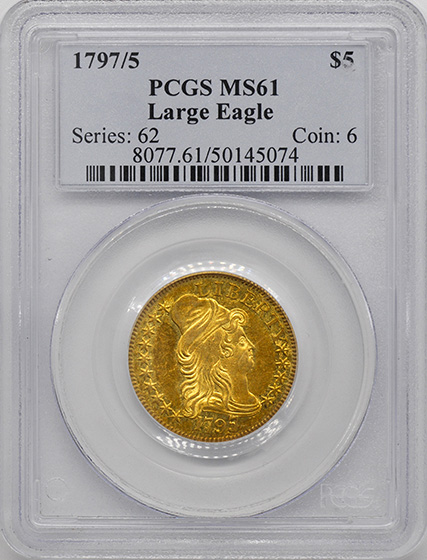 VERY CHOICE LUSTROUS SURFACES. ONLY 20 BELIEVED TO EXIST TODAY IN ANY GRADE. ONLY AN MS62+ COIN GRADED HIGHER. JUST 20 COINS BELIEVED TO EXIST TODAY IN ALL GRADES.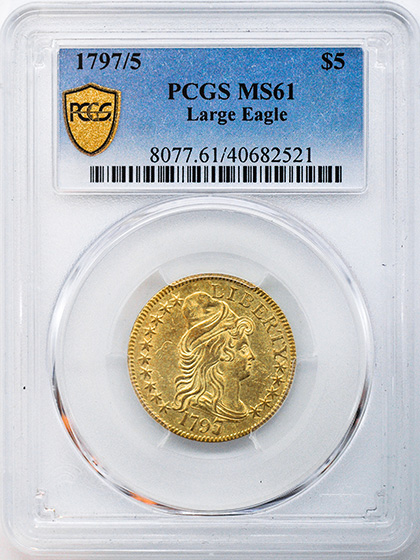 LARGE EAGLE. DRAMATIC OVERDATE. WELL STRUCK WITH LOVELY SATIN LUSTER. ONLY A MS62+ GRADED HIGHER. 15 STAR OBVERSE. JUST 20 COINS KNOWN TO EXIST TODAY IN ALL GRADES.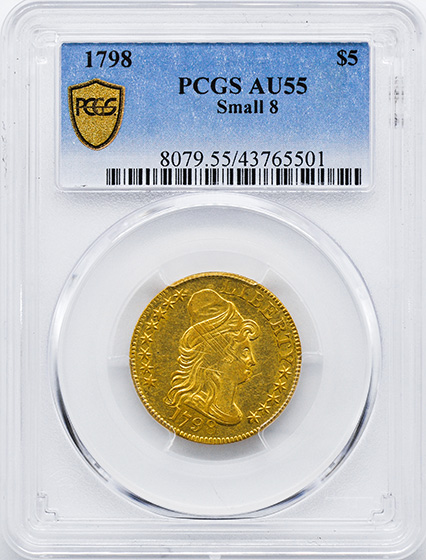 SMALL 8. CHOICE SURFACES WITH STILL SOME MINT LUSTER EVIDENT. ONLY 75 TO 100 BELIEVES TO EXIST TODAY. JUST FIVE COINS GRADE HIGHER AT PCGS.
Sign up for exclusive access!
Don't spend hours searching for coins
Let us bring the coins to you.
Receive our weekly updated inventory list
The most comprehensive and high-end inventory of U.S. rare coins in the world
Back to site