Standing Liberty Quarters
The year was 1916. World World I was raging in Europe, and the political climate in the United States was definitely guarded. Nine years earlier, President Theodore Roosevelt had initiated using classical design motifs for our gold coins, and now, as the Coinage Act of 1890 had authorized, the smaller silver coins were eligible for changes. U.S. Mint Chief Engraver Charles Barber's "uninspired" design had marked the quarter, dime and half dollar for the preceding quarter century, and the public was ready for something different. It was the perfect opportunity to issue a coin that, as a contemporary government report put it, "was intended to typify in a measure the awakening interest of the country to its own protection."

Thus, the Standing Liberty quarter was born. As was the case with the other new coinage, a competition was held to select the design. The artist chosen was a prominent sculptor of the day, Hermon Atkins MacNeil, who was know.... (Expand Text)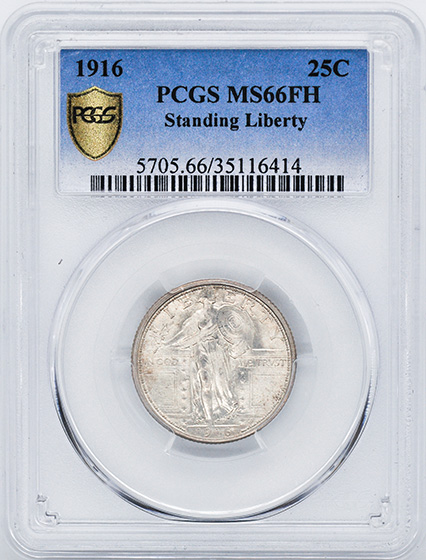 GEM SATIN WHITE LUSTROUS SURFACES. A DRAMATIC EXAMPLE OF THIS FIRST YEAR OF ISSUE DATE.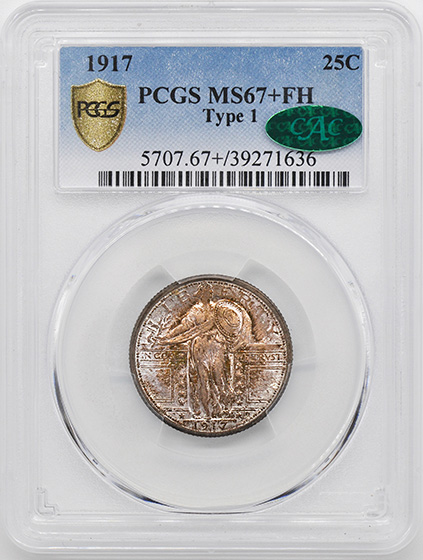 TYPE 1. TIED FOR HIGHEST GRADED. COL GREEN PEDIGREE. CAC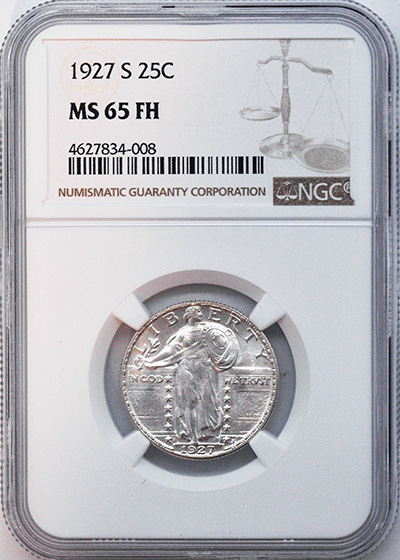 A DAZZLING WHITE GEM. ONLY 1 GRADED HIGHER AT NGC. FULL HEAD
Sign up for exclusive access!
Don't spend hours searching for coins
Let us bring the coins to you.
Receive our weekly updated inventory list
The most comprehensive and high-end inventory of U.S. rare coins in the world
Back to site