Flowing Hair Dollars
(1794-1795)
The dollar was the cornerstone of the monetary system devised by the Founding Fathers for the fledgling United States. More than two years passed, however, between the time Congress authorized dollar coinage and the actual production of the first such coin, the Flowing Hair silver dollar.

Congress itself was responsible for the delay. As part of the basic Mint Act of April 2, 1792, the House and Senate specified that two key Mint officers—the chief coiner and assayer—would have to post bonds of $10,000 each before they could work with precious metal. The requirement was onerous: It represented more than six times the annual salary of $1,500 apiece provided for these two officers. Understandably, they had trouble meeting it—and, until they did, only copper coinage could proceed.

Frustrated by this roadblock in his efforts to begin full-scale coinage, Mint Director David Rittenhouse appealed for help to Sec.... (Expand Text)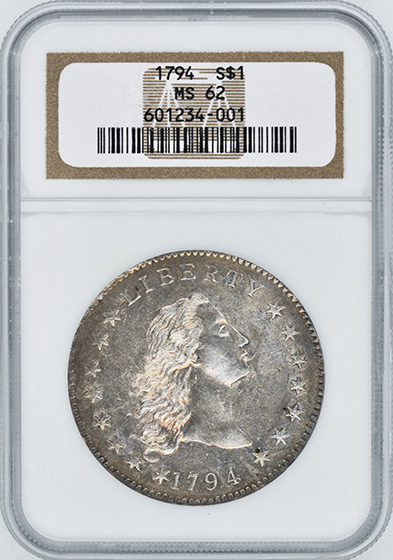 THE AMAZING 1794 SILVER DOLLAR. FIRST YEAR OF ISSUE. ONLY 1,758 ORIGIANLLY RELEASED. ONLY ABOUT 150 EXIST TODAY IN ANY CONDITION. NOTED 1794 AUTHOR, RESEACHER AND EXPERT MARTIN LOGIES RANKS THIS COIN AS THE 8TH FINEST KNOWN.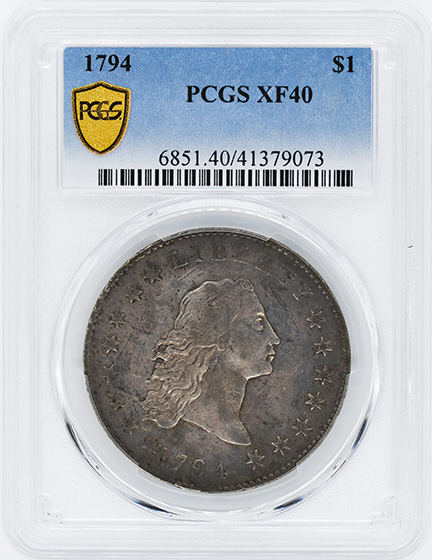 FIRST YEAR OF ISSUE! VERY CHOICE EVENLY WORN PLANCHET. FULL SHARP DATE WITH WELL STRUCK UP STARS. A FABULOUS, WELL PRESERVED SPECIMEN.
Sign up for exclusive access!
Don't spend hours searching for coins
Let us bring the coins to you.
Receive our weekly updated inventory list
The most comprehensive and high-end inventory of U.S. rare coins in the world
Back to site